Asbestos Removal in Southern Oregon

Asbestos Removal in Southern Oregon
Asbestos is a durable, heat-resistant mineral that can be broken down into tiny fibers. It was widely used in construction materials until 1987 before it was banned. However, many buildings made before 1987 contain asbestos in materials ranging from drywall to popcorn ceilings. If you suspect that asbestos is in your home or business, contact ProKleen today for asbestos abatement.
What are the Hazards of Asbestos?
Long-term exposure to high concentrations of asbestos fibers can cause serious health problems. When asbestos fibers become airborne, they can lead to illnesses, such as mesothelioma, asbestosis, and lung cancer. For more in-depth information, please visit this guide on asbestos in the home.
How Can You Protect Yourself from Asbestos?
As long as asbestos is undisturbed and remains undamaged and sealed, it's not considered a health hazard. Materials containing asbestos can become hazardous if they are subject to rot or mold, remodeling, natural disasters, structural damage, and pest or rodent infestation.
Professional Asbestos Removal
When it comes to asbestos removal, it's critical to take precautions and work with care. At ProKleen, we follow specific protocols to return your home to a safe space and ensure your health throughout that process. Our process includes setting up double barrier containment and sealing and protecting vents and other openings with plastic sheeting. Other precautions we take include:
Establishing negative air pressure to prevent further contamination
Installing decontamination systems
Cleaning up using a HEPA (high-efficiency particulate) vacuum
Disposing asbestos-containing waste sealed in certified containers
Relocating waste containers to qualified landfills
Asbestos Remediation for Your Home or Business
If you're concerned that materials in your home or business may contain asbestos, take action today. Fire and water damage can unleash the hazards of asbestos, resulting in illnesses that are difficult to treat. By taking preventative measures, you can save time and resources. Contact ProKleen to set up an asbestos removal appointment for your home or business today.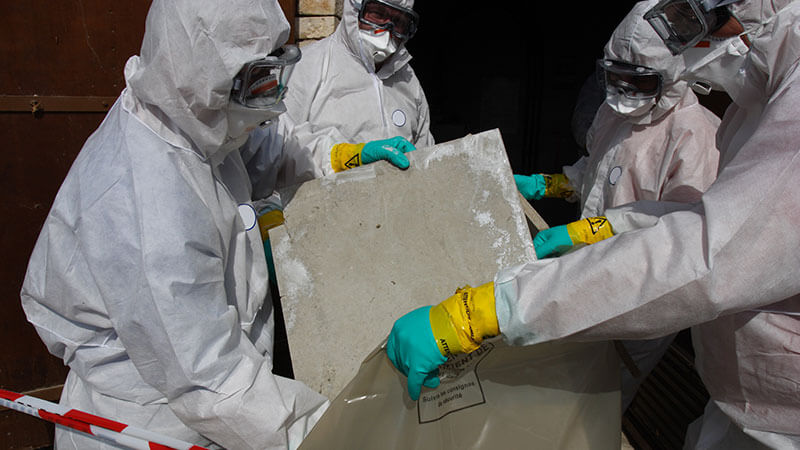 Asbestos Abatement
Thoroughly test your home or business for asbestos
Trained professionals safely handle, remove and transport asbestos
Contact Us Today
Nothing beats returning to a home where you feel safe and comfortable. When it's time for some emergency restoration, we want to help.
Whether you need water damage services or biohazard clean up, Prokleen is the right place.
Contact us today to set up an appointment to get your sewage cleanup or biohazard cleanup and removal. 
Anchor • Applegate • Ashland • Azalea • Brownsboro • Cave Junction • Central Point • Dryden • Eagle Point • Fruitdale • Galice • Glendale • Gold Hill • Grants Pass • Holland • Illinois Valley • Jacksonville • Kerby • Lake Creek • Lincoln • Medford • Merlin • Murphy • New Hope • O'Brien • Pinehurst • Phoenix • Pleasant Valley • Provolt • Quines Creek • Rogue River • Ruch • Sams Valley • Selma • Shady Cove • Sunny Valley • Table Rock • Takilma • Talent • Trail • White City • Wilderville • Williams • Wimer • Wolf Creek • Wonder
24-hour emergency service
CCB# 179805
24-hour emergency service
CCB# 179805